Built In Networking at Modern Work Suites & Studios
Modern Work Suites & Studios has become one of the most talked about work spaces in Omaha. We don't like to brag – but we do like to mention that we have a built in business ecosystem right here at 88th & F Street. What is a business ecosystem you might ask? Well….it's a place where our tenants are able to get to know each other through weekly tenant happy hours, monthly networking events (open to the public) and fun internal events. While it is not mandatory that our tenants work together on projects or go down the hall to find a photographer or CPA – it just happens naturally. Among the common areas, next to the coffee machine or even over a happy hour cocktail – business is taking place here at Modern Work! When asked about their favorite feature of Modern Work tenants said things like "I love the community feeling I get from the tenants", "Friday happy hour", "great networking options and making new friends", and "an office space that encourages community social interaction among it's tenants". What amazing feedback!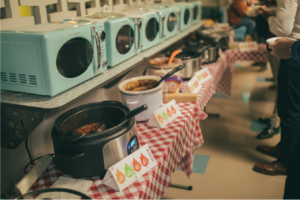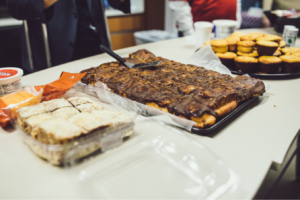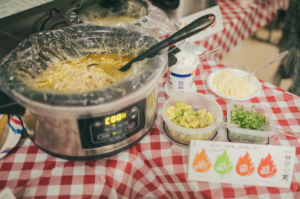 Pictures above are from the First Annual Chili Cook-Off held at Modern Work on Friday, January 24. There were 11 entries and 40 judges. Best in Chili was awarded to a keto-friendly chicken chili (as seen above). Just another fun networking event at Modern Work.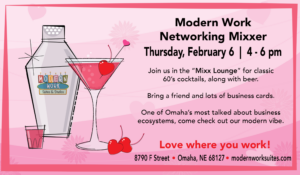 Please join us for our next monthly Networking Event on February 6, 2020 from 4 – 6 PM. This event is open to the public. We encourage everyone to join us, bring a friend and a lot of business cards! This month our event will also include the Grand Opening of Omapod Studios – a podcast studio right here at Modern Work: https://www.facebook.com/events/1313860258821057/