As tenants at Modern Work Suites, we understand that creating a productive and enjoyable office space is a top priority. We conducted a poll among our tenants and found several key factors that contribute to a positive workspace. The top ten things they enjoy about having an office space at Modern Work Suites is:
Collaboration,
Connections,
The music,
The energy,
Happy hour,
People,
Flex Work Spaces,
The amazing smile off the elevator,
Social environment,
and the Community.
This blog post will explore these factors and explain why they are so important of our coworking space and your office.
Social
One of the most important aspects of any office space is social connections. Building relationships with colleagues improves morale and job satisfaction and can lead to a more productive and efficient work environment. Networking and connection between employees can lead to increased collaboration and idea-sharing. There are many ways to encourage this, such as:
Networking events.
Hosting networking events at Modern Work Suites is a great way to introduce yourself to people from different businesses and teams. It helps build relationships and create opportunities for collaboration.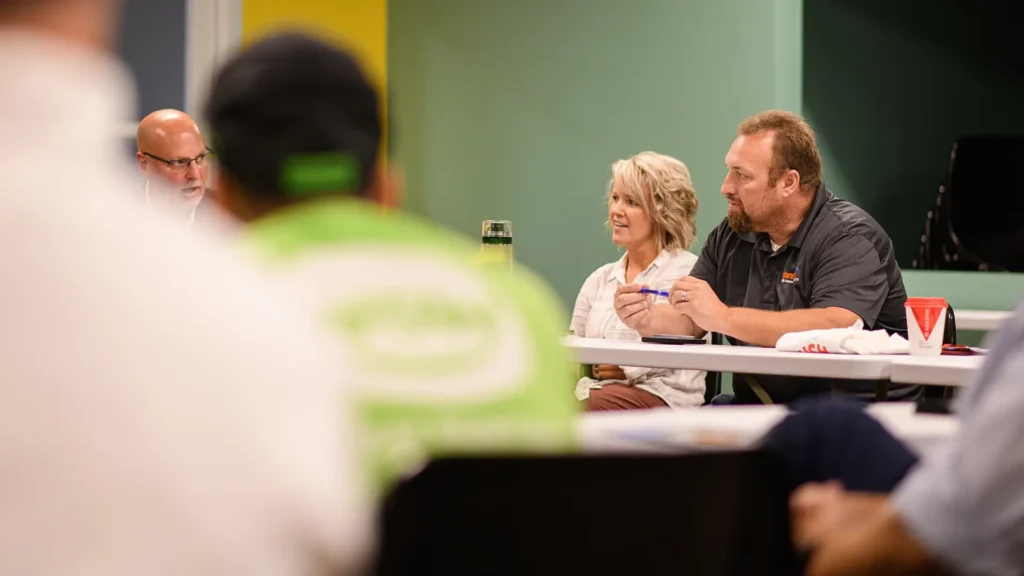 Community spaces.
Providing our tenants a collaborative space to relax and socialize can also encourage networking and connection. You can find this in our break room, Mixx Lounge, large Living Room, and open shared workspace.
Happy hour.
Every Friday at 4:30p is happy hour at Modern Work Suites. This is a casual and relaxed setting where our tenants can get to know each other better. It is a great way to encourage casual friendships and networking.
You can create a more collaborative and productive work environment by encouraging networking and connection between each other.
Environment
The environment of your workplace has a significant impact on your productivity and job satisfaction. Here are two key factors that we found to be important for creating a positive workspace:
Music
The right music can powerfully impact employee productivity and morale. Playing music in the office can help create a positive and energizing atmosphere that can help you stay focused and motivated throughout the day. Additionally, music can also help to reduce stress and anxiety, which can improve overall mental health and well-being.
People
Another factor in creating a productive office space is the people who work there. Modern Work Suites is a place for business owners, entrepreneurs, and solopreneurs who are passionate about their work and committed to their success. Investing in your social health is key to growing and further developing your business.
Here are some additional tips for creating a positive workspace:
Make sure the space is comfortable and inviting. This means providing our tenants with comfortable furniture in our spacious living room, adequate lighting, and plenty of natural light on the outer walls of our building.
Encourage collaboration and communication. You can do this by supporting other businesses renting an office in Modern Work Suites. A deep tissue massage from Kellye G Massage, buy a candle from Bianchi Candle Co., or start a business podcast with Two Brothers Creative.
Create a sense of community. You can do this by hosting regular social events, such as happy hours or greeting each other in the hall.
Provide opportunities for professional development. You can grow professionally by working with some of our tenants that support professional development. For example, executive coach Michael King from Teams.Coach.
Celebrate successes. Remember to celebrate your success and learn from your business failures. Celebrating is a great way to boost your morale and create a positive work environment.
By following these tips, you can create a productive and enjoyable workspace for you and your fellow coworking businesses.
In summary, establishing a productive and pleasant office environment cannot be overstated when achieving business success. Making an effort with your social connections and the workspace atmosphere can enhance an enjoyable working experience for you. We understand the importance of these factors and are committed to helping our tenants create the perfect workspace. Contact us today to learn how we can help you create a productive and enjoyable office space.