Unlocking Business Success: How Fully-Furnished Office Spaces Empower Small Businesses
Today, one significant shift stands out in how people reimagine their workspaces – fully furnished offices. Not surprisingly, these pre-outfitted workspaces are becoming a hot choice. Why's that, you ask? Well, these plug-and-play solutions offer more than a place to work – they're equipped with the furniture your business needs, all setup and ready from the moment you walk through the door.
Modern Work Suites' professional workspaces are a giant hit with small businesses and startups. Small businesses and entrepreneurs typically need quick, flexible pivots to react to business changes. The costs can mount quickly, with traditional office space rental often demanding substantial deposits, long-term leases, setup expenses, and ongoing maintenance. These coworking spaces remove the common issues new businesses face by offering an affordable, flexible, and ready-to-go solution. This way, companies can focus on what matters most – growth. The ready availability, reduced commitment, and cost-effectiveness of fully furnished offices make life simpler for countless small businesses in the Omaha metro.
Navigating Financial Challenges: The Importance of Economical Workplace Solutions
Running a small business often comes with unique challenges, one of which is managing finances efficiently. It's no secret that starting a new venture requires considerable capital. Costly investments pile up quickly, from marketing and product development to human resources. Let's remember one of the most significant expenditures – securing an appropriate workspace. Traditional office setups often entail significant initial investments in property and infrastructure and ongoing maintenance costs. In fact, they can put quite a strain on the limited resources of a small enterprise.
Fully-furnished office spaces offer a hassle-free, cost-effective solution to this dilemma that's perfectly tailored for small businesses. Forget about the large deposits or the inflexible long-term leases that accompany conventional office spaces. With fully-furnished offices, you get a professional workspace without worrying about excessive setup costs or the burden of property maintenance. You can scale up or down based on your changing needs. Plus, the charm of walking into an office space with modern furniture and facilities at a fraction of the cost is hard to resist. Taking advantage of such economical solutions enables small businesses to divert their funds and energy toward growth-oriented endeavors, paving the path to success.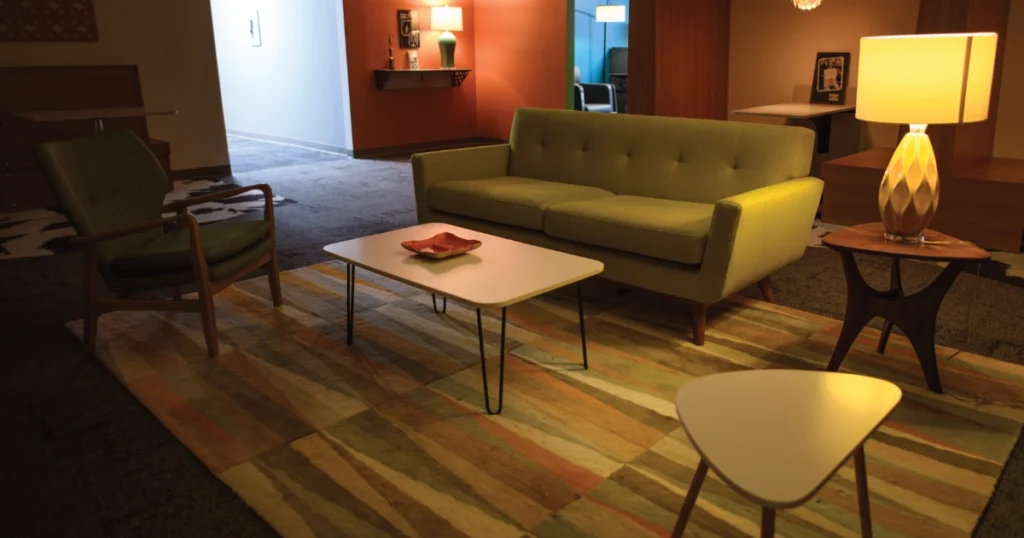 Easy Set-Up: The Convenience of Plug-and-Play Workspaces
When you're in the fast-paced world of small businesses and startups, time is money. The less downtime you have, the quicker you can open your doors to opportunity. A traditional office involves time-consuming tasks such as searching for the right furniture, arranging for installation, setting up utilities, and more. This process can take weeks, if not months, to be ready. So how do small businesses overcome this obstacle to hit the ground running?
With fully-furnished office spaces, all the heavy lifting has already been handled before you even step in the door. Imagine entering a professional, well-designed office with modern furniture, high-speed internet, base utilities, and basic amenity. All this without the usual headache and downtime! This turn-key solution saves your business valuable time and energy, allowing you to focus on your core operations from day one. With the convenience of ready-to-use spaces, your business can be operational in a short amount of time. This fast-track setup means your team can start performing at their best immediately, making sure your business doesn't miss a beat.
Professional Image: The Power of a First Impression in Business
First impressions matter, especially in business. When customers, partners, or potential employees walk into an office, what they see shapes their perspective about the company. A disorganized, outdated space might give off the wrong vibe—not quite the impression you'd want to make. So how can small businesses ensure they're projecting a professional, credible image?
The fully-furnished office spaces at Modern Work Suites strike a perfect balance between aesthetics and functionality. As soon as you enter, you're greeted by a professional and modern workspace with custom desks, office chairs, stylishly appointed meeting rooms, and thoughtfully designed breakout spaces. The high-quality furnishings and attention to detail subtly convey your business's commitment to excellence and professionalism. By opting for a fully-furnished office, you make the day-to-day operations more comfortable for your team and present your business as a competent, established player in the industry. And anyone—clients, partners, or potential hires—would love to associate with a business that exhumes confidence and professionalism at every turn.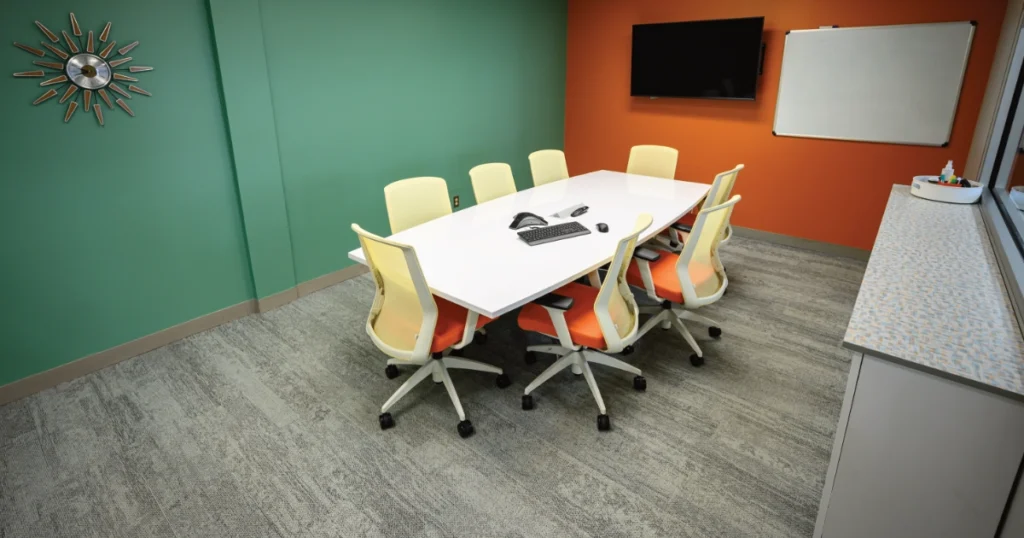 Boosting Productivity and Collaboration: The Power of an Inspiring Workspace
In the business world, productivity and collaboration are essential. How your team interacts, shares ideas, and gets the job done dramatically affects the success of your business. So, how can we encourage productivity and foster a collaborative spirit? The answer may be more straightforward than you think. An influential factor is the workspace itself, which can significantly impact how your team functions. But how exactly does a workspace impact productivity and collaboration?
The fully-furnished spaces at Modern Work Suites & Studios are not just offices. They are rich and inspiring environments designed to motivate your team. With comfortable, high-quality furniture, you can see improved focus and productivity with you and your team. Open layouts encourage collaboration and exchanging ideas, while private spaces allow for concentrated work. Add to this the convenience of necessary amenities like high-speed internet and readily available office equipment. Furthermore, the community of entrepreneurs and small businesses facilitates networking, the exchange of ideas, and friendship. All these aspects combine to create an environment where productivity thrives and collaboration is seamless.
Inclusive Services: Beyond the Basics, Elevating Office Experience
Selecting a workspace incorporates much more than just finding a place to put your desk and chair. There isn't a 'one-size-fits-all' solution when it comes to determining what businesses need in an office space, especially smaller ones. Ideally, a workspace should act as a hub, providing all the facilities required to carry out business operations smoothly. But what could such a hub include, and how does a fully-furnished office tie in?
Fully-furnished office spaces, like those offered by Modern Work Suites & Studios, go beyond just providing a place to work. They encompass an array of comprehensive services to foster a seamless working experience. Utilities like electricity, water, and heating are taken care of so you can direct your focus on what matters most – your work. High-speed internet keeps your business connected and agile. Access to state-of-the-art conference rooms ensures you have the professional setting necessary for face-to-face or virtual client meetings, while the on-site property manager addresses any issues promptly, ensuring the day-to-day operations proceed without a hitch. In essence, the services provided by fully-furnished office space are designed to cater to your business needs while offering the comfort and efficiency of a sleek, modern office.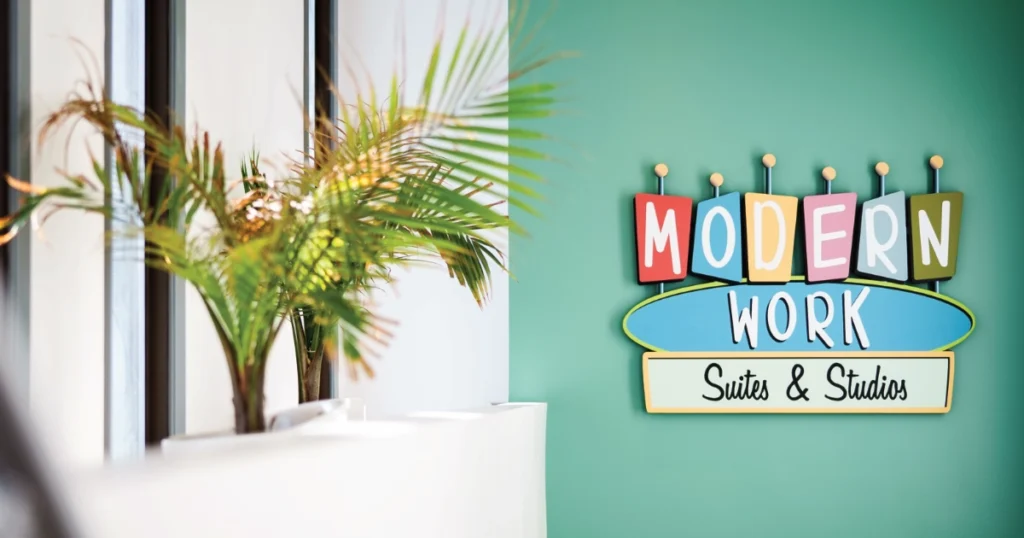 Conclusion: Embrace the Future of Workspace with Fully-Furnished Offices
Fully-furnished office spaces represent a remarkable solution for small businesses navigating the challenging terrain of growth and prosperity. From the economical aspects that relieve the financial burden, the easy and quick setup that lets you hit the ground running, the enhancement of the professional image that leaves a lasting impression, to the scalability ensuring the space grows with you – every aspect caters to minimal hassle and maximum efficiency. These spaces not only boost productivity and collaboration through an inspiring environment but also deliver a host of inclusive services, making them more than just a desk and chair setup.
By choosing fully-furnished offices like those at Modern Work Suites & Studios, small businesses can truly thrive, focusing more on their work and less on logistical hurdles. These versatile environments have been constructed with the specific challenges and needs of small businesses in mind, providing comprehensive, cost-effective solutions. Why not experience the extraordinary benefits firsthand? We invite you to join us for a tour of Modern Work Suites & Studios. Come, discover a workspace that's more than just an office—it's the first step towards your business's bright future.