Business expansion is an exciting milestone for any entrepreneur. However, it also comes with its fair share of challenges, including finding a suitable office space to accommodate your growing team and operations. This is where Modern Work Suites & Studios steps in, providing fully-furnished office spaces for lease designed to help your business expand seamlessly. Let's explore how our facility at Modern Work Suites can support your business growth and why our flexible office studios and suites perfectly fit your growing business.
Benefits of Office Space Rentals
Choosing to rent office space from Modern Work Suites & Studios over traditional office ownership presents a wealth of benefits, particularly when focusing on business expansion. Some of the most significant advantages include:
Cost savings
Opting for office space rentals from Modern Work Suites & Studios generally comes with lower upfront expenses compared to purchasing a property outright or a storefront in a business development strip. At Modern Work Suites, we cover the utilities, base internet, on-site maintenance, and provide high-quality office furniture, including desks, office chairs, bookcases, lamps, and credenzas. As a result, businesses can redirect more financial resources toward important growth initiatives and investments.
Flexibility
One of the primary perks of renting office space from Modern Work Suites & Studios is the ability to scale operations according to your needs without being tied down by long-term property commitments. This flexibility allows businesses to adapt and respond effectively to fluctuating market conditions and evolving growth requirements. For example, if your business is experiencing rapid growth, you can easily rent additional office space from Modern Work Suites & Studios to accommodate your expanding team.
Scalability
Office space rentals from Modern Work Suites & Studios allow businesses to expand or reduce their workspace as necessary, ensuring they only pay for the space they genuinely need. This scalability feature contributes to efficient resource management and cost-effectiveness during expansion. For example, if you're starting a new business, you may only need a small office space from Modern Work Suites & Studios. As your business grows, you can easily add additional office space. This allows you to avoid the high upfront costs of purchasing a larger property.
Additional Benefits to Leasing an Office at Modern Work Suites.
In addition to the benefits mentioned above, renting office space from us can also provide businesses with several other advantages, such as:
Access to amenities
Modern Work Suites & Studios offers a variety of amenities to its members, such as conference rooms, break rooms, and a low-impact gym. These amenities can save businesses money and time, as they no longer need to invest in or maintain equipment and facilities.
Professional image
Renting office space at Modern Work Suites & Studios in a professional building can give your business a more experienced and professional image. A professional office can be essential when meeting with clients or potential investors to elevate your brand and the clients' trust in a business.
Networking opportunities
Renting office space from Modern Work Suites & Studios in a shared office building can allow businesses to network with professionals in their industry and other industry professionals. Networking opportunities can lead to new business prospects and partnerships.
If you're considering renting office space from Modern Work Suites & Studios for your business, carefully weigh the benefits and drawbacks. With so many advantages, renting office space at Modern Work Suites can be a great way to save money, improve your business's image, and grow your business.
In addition, Modern Work Suites & Studios offers several other benefits that make it an excellent choice for businesses of all sizes. These benefits include:
Convenient location
Modern Work Suites & Studios is located in the heart of Omaha, Nebraska, making it easy for employees to get to work. We are centrally located off Interstate 80 at the 84th Street exit. Our suites and studios are perfect for startups, entrepreneurs, small businesses, and freelancers.
Modern amenities
Modern Work Suites & Studios offers a variety of modern amenities, such as high-speed internet, on-site maintenance, on-site property manager, a business center, a low-impact gym, multiple conference rooms, break areas, a game room with pool and table tennis, and more amenities.
Friendly staff
Modern Work Suites & Studios staff is friendly and helpful, and they are always willing to go the extra mile to ensure our members are satisfied.
If you are looking for a flexible, affordable, and convenient office space solution, then Modern Work Suites & Studios is the perfect choice. Contact our on-site manager today to learn more about our services and to schedule a tour.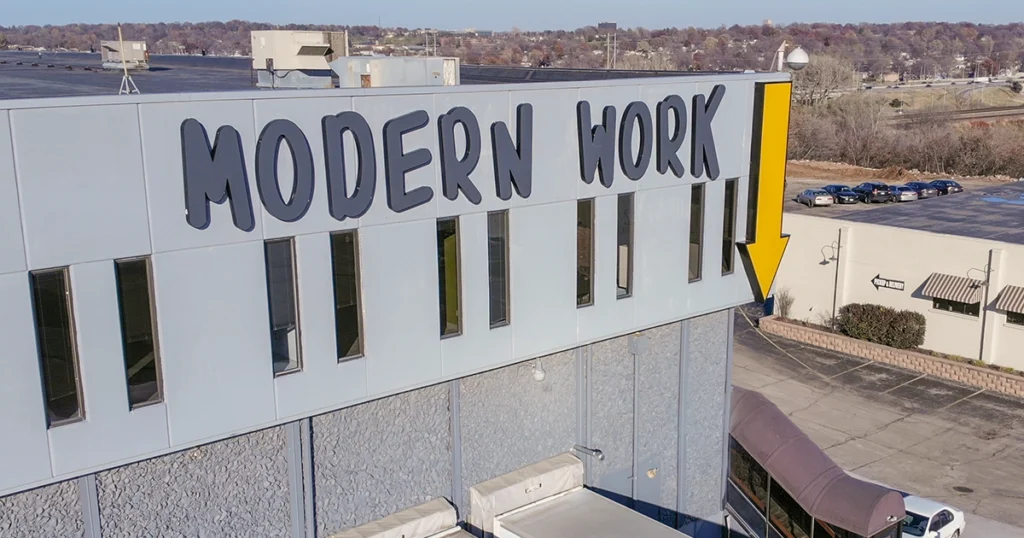 Office Space Solutions for Expanding Businesses
We also offer a range of office space solutions tailored to suit the needs of growing businesses. Our location has various office sizes and configurations, flexible lease terms, customizable office suites, and multiple amenities.
Various office sizes and configurations
Modern Work Suites & Studios can accommodate teams of all sizes with various office layouts and sizes, ensuring that businesses have the ideal workspace to support their growth.
Flexible lease terms
Understanding that business requirements can change, we offer our members lease terms flexible to your evolving needs. This flexibility allows businesses to expand their office space commitments as they grow and require more office space.
Customizable spaces
We also provide customizable suites studio spaces to further support growing businesses to fit their unique business needs. This customization ensures that your workspace aligns with your brand identity, company culture, and operational requirements.
By offering such diverse and flexible office space options, Modern Work Suites & Studios ensures that expanding businesses can find the perfect workspace solution to fuel their growth.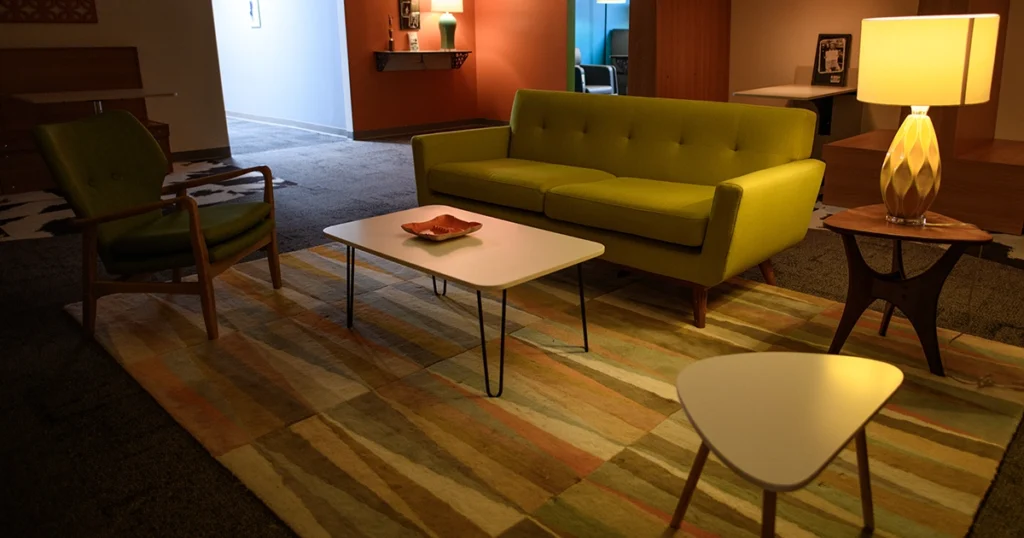 Additional Amenities and Services
In addition to providing versatile office spaces for lease, Modern Work Suites & Studios also offers various amenities and services designed to enhance productivity and success. These include:
Fully-equipped conference rooms
We offer access to state-of-the-art conference rooms, perfect for hosting meetings, presentations, and workshops. These professional spaces are equipped with the latest technology, ensuring a seamless experience for all attendees.
On-site management
Modern Work Suites & Studios has dedicated on-site management staff available to address any facility-related needs or concerns. This support ensures businesses can focus on their core operations without being sidetracked by property maintenance issues.
Low Impact Gym
Recognizing the importance of a healthy work-life balance, we provide an on-site low-impact gym for members. This amenity allows employees to maintain their physical well-being, leading to increased productivity, reduced stress levels, and a happier and healthier work environment and teams.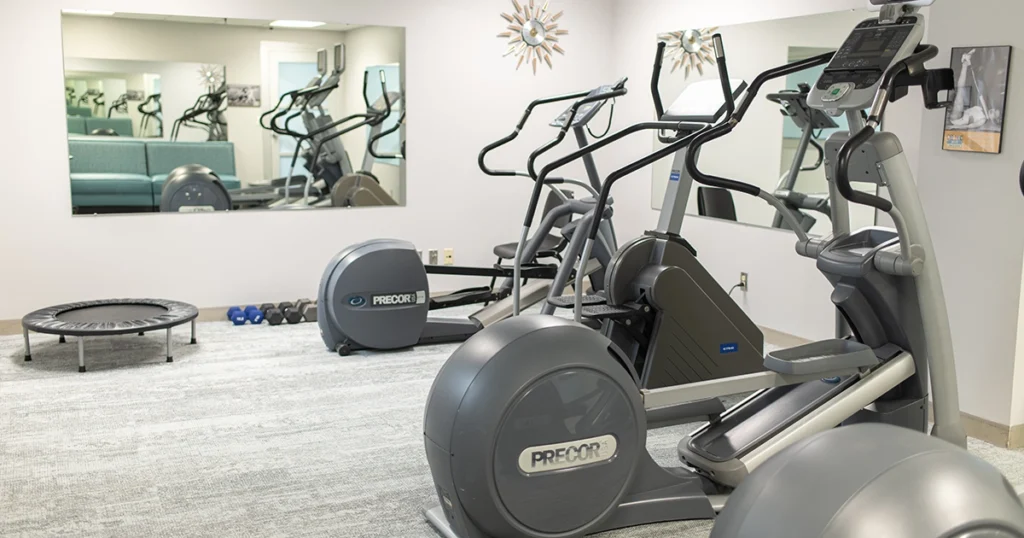 These additional perks create an ideal environment where businesses can flourish as they embark on their expansion journey.
Networking and Collaboration Opportunities
At Modern Work Suites & Studios, we understand the importance of networking and collaboration in driving business success. By offering an environment that encourages business networking, businesses can benefit from the following:
Establishing valuable connections
The shared workspace setting fosters opportunities to build relationships with fellow entrepreneurs, professionals, and potential clients. These connections can lead to new partnerships, referral networks, and collaborative ventures.
Knowledge sharing and learning
Working alongside diverse businesses and professionals promotes the exchange of ideas, experiences, and insights. Knowledge-sharing can inspire innovation, enhance problem-solving skills, and improve business growth.
Collaborative projects for mutual success
Businesses can collaborate on projects in a supportive environment, combining their expertise and resources to achieve common goals. This collaborative approach can result in improved outcomes, increased efficiency, and a shared sense of accomplishment.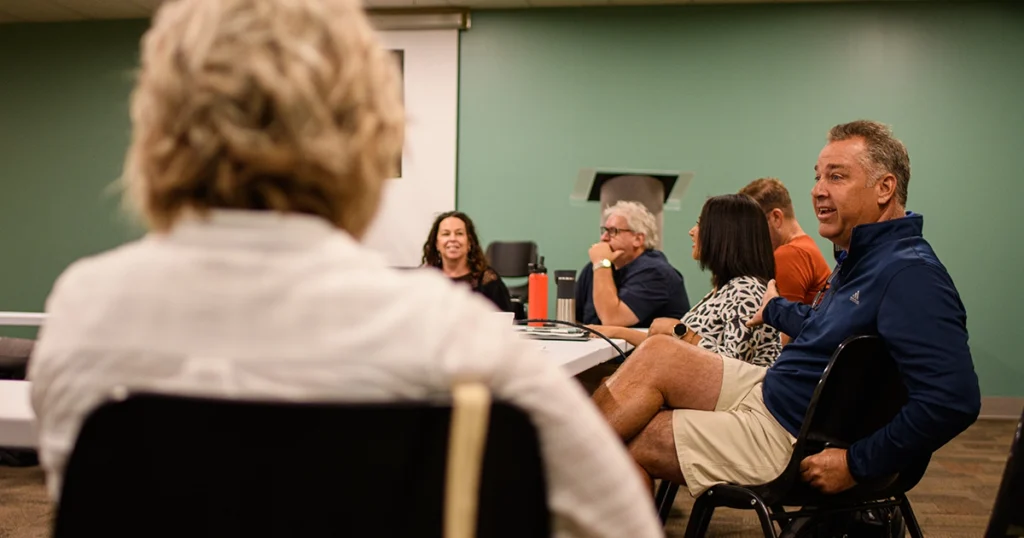 We also host networking events for our members and other networking organizations, like Center Sphere. By providing networking and collaboration opportunities, Modern Work Suites & Studios empowers businesses to expand their horizons and drive growth through meaningful interactions and partnerships.
Unlock your business's expansion potential with us.
In conclusion, Modern Work Suites & Studios offers the perfect solution for businesses looking to expand or to get their first office location. Our office space rentals and additional amenities and services create an environment conducive to growth. Furthermore, the networking and collaboration opportunities available within the coworking space can lead to new partnerships and avenues for expansion.
If you're considering expanding your business, we encourage you to explore our office spaces by scheduling a tour. With our support, you can confidently take your business to the next level.