Choosing a suitable office space for rent or space for lease is an integral decision for any growing business. It is not just about securing a physical location for your business; it's about laying the foundation for future success. The workspace you select becomes the hub of operations, where ideas are born and your team achieves its goals. The workspace you choose can significantly impact your team's productivity, creativity, and overall business success.
With the proper guidance and a clear understanding of your business needs and values, you can find the perfect space that supports your growth, just like the office spaces at Modern Work Suites. This article will guide you through the factors to consider when choosing an office space, ensuring you make an informed decision that supports your business's growth.
Determine Your Business Needs
One of the first factors to consider when selecting an office space for lease is the nature of your business and its specific requirements. Consider the number of employees, equipment requirements, and future growth projections. These factors will determine the size and type of space you need. For instance, if your business is technology-based, an office that supports the necessary tech infrastructure becomes vital. If your team is growing, a flexible space accommodating an expanding workforce is the focus.
Also, consider an office space that can accommodate your growth. That could mean extra space for new hires, adaptable areas you can reconfigure as needed, or flexible lease terms that allow you to move or expand within the property. Planning for the future can save you from the inconvenience and expense of moving your business once it outgrows the space. The list could also include the ideal square footage, specific layout requirements, necessary amenities, and location preferences.
Next, think about your equipment requirements. Depending on the nature of your business, you may require specific technological infrastructure, machinery, or storage facilities. For instance, a tech company might need a reliable network infrastructure and room for servers, while a design studio may need space for large drafting tables or 3D printers. Understanding these needs will ensure that your office space can accommodate your equipment and technological necessities, providing the right environment for your operations to thrive.
It can be helpful to create a comprehensive list of your current and anticipated needs to ensure you're considering everything. Keep this list handy while searching for the perfect office space for rent. It will serve as a valuable guide, setting the tone for your search and helping you sift through your options to find the office space that best suits your business needs, now and in the future.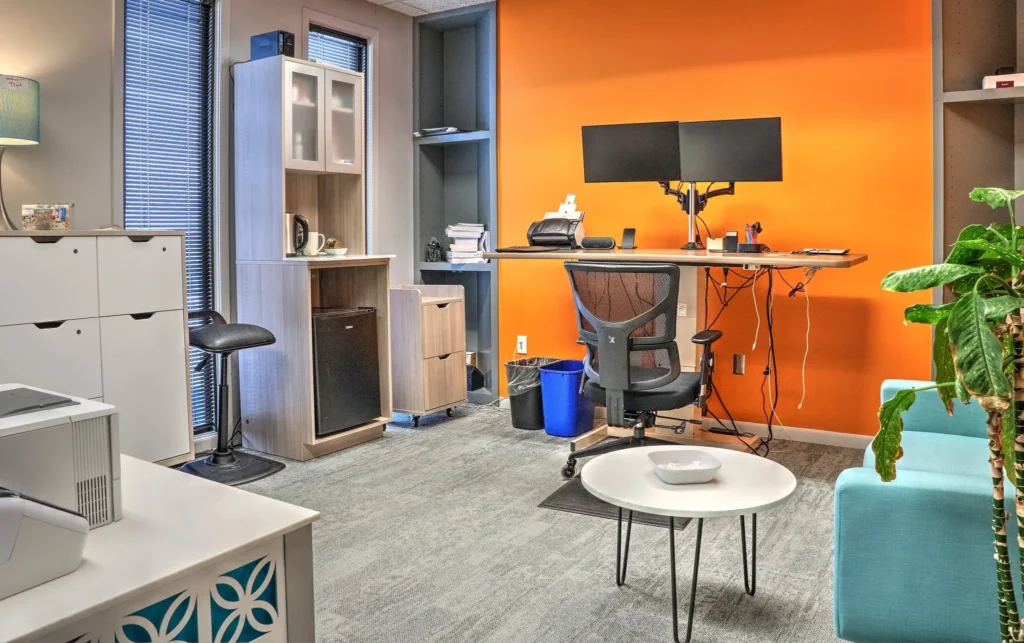 Consider Location and Accessibility
The location of the office space is another factor to consider when selecting an office space for lease. Your business's accessibility to clients, customers, and employees can influence its performance. Consider the ease of commute for your team, proximity to potential and existing clients, and the availability of essential amenities like parking, public transportation, and eateries. A central location that's easily accessible can boost staff morale and client satisfaction. Modern Work Suites is centrally located in Omaha, just southwest of the 84th Street exit on Interstate 80, at 8790 F Street.
The location should also consider your employees' commute. An office far from employees' residences may lead to longer commute times, negatively affecting morale, punctuality, and productivity. If most of your employees spend a significant amount of their day commuting, it can lead to increased stress and decreased job satisfaction. Therefore, finding a convenient location for your team should be a high priority.
Beyond commuting, you can view nearby amenities like restaurants, coffee shops, and parks. Such amenities can enhance your staff's work experience, providing places for them to eat, relax, and socialize. They can also be helpful for informal meetings with clients or team gatherings.
Evaluate the Office Space Layout and Amenities
When considering Modern Work Suites, look beyond just the office space size. The layout and available amenities are equally important. Does the space offer conference rooms, break rooms, and other necessary facilities? Is the office layout conducive to your team's work style? A well-designed, fully-furnished office space can enhance productivity and create a more enjoyable work environment.
Also, fully-furnished offices save you from the hassle and expense of procuring and setting up office furniture and equipment. Modern Work Suites' offices are thoughtfully furnished with high-quality items to offer an inspiring, comfortable, and ready-to-use workspace. You can hit the ground running from day one, focusing your valuable time and resources on what truly matters – growing your business.
Consider the Lease Terms and Financial Implications
Take the financial implications of your decision into consideration as well. Beyond the basic rental or lease costs, consider expenses like utilities, maintenance, and potential future rent increases. Select an office space that fits your budget without compromising your business needs.
At Modern Work Suites & Studios, we offer fully-furnished offices, with utilities and base internet included. You also gain access to our Mixx Lounge, the Living Room, a low-impact gym, five conference rooms, and an auditorium for hosting larger meetings or events.
Think About the Company Culture and Values
In the era of remote and flexible work, your office space's layout and design have become more significant than ever. A well-designed, aesthetic workspace can stimulate creativity, promote employee satisfaction, and enhance productivity. Modern Work Suites, for instance, offers fully furnished office spaces with all the amenities needed to foster a conducive and productive work environment.
Your office space is also a reflection of your company culture and values. If your business values collaboration and open communication, a workspace that encourages interaction—like open-plan offices or co-working spaces—could be a perfect fit.
Consult with Our Members
Consult with professionals who currently lease office space at Modern Work Suites. Our members can provide valuable insights when selecting an office space. Their expert advice can guide you toward a decision that aligns with your business goals and budget.
Engaging with professionals who already lease office space at Modern Work Suites can be invaluable in your decision-making process. These individuals have firsthand experience with the functionality and advantages of our office spaces and can share their personal experiences, providing you with a deeper understanding of what to expect. Interacting with current tenants gives you a unique perspective and allows you to envision how your own business could thrive in a similar environment.
Further, their expert advice, grounded in their personal experiences, can guide you toward making a decision that truly aligns with your business needs, goals, and budget. They can provide practical tips on maximizing the space, leveraging the amenities, and integrating into the community. This extra layer of input can offer reassurance and confidence in making an informed decision supporting your business growth and success.
Conclusion
Selecting the right office space for lease is a multi-faceted decision. It involves considering your business needs, location preferences, office layout, lease terms, company culture, and professional advice. Take your time, do your research, and carefully evaluate your options. With careful consideration, you'll find the perfect space that fosters your business's growth and success.
It's not just about finding a space; it's about finding a place that aligns with your business needs, accommodates your team, and enhances your operations. Finding a suitable office space is a significant step in your business journey. So, take your time, do your research, and evaluate your options carefully. With the right approach and consideration, you'll secure an office space that meets your current needs and fosters your business's future growth and success.